Street Corner View from Washington and East Maryland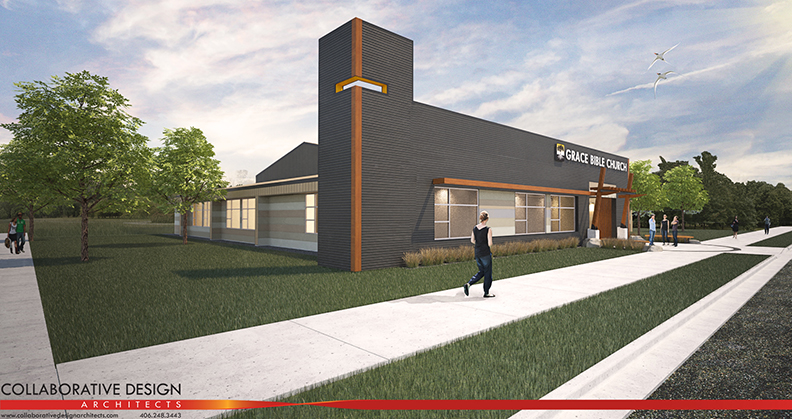 Detail of Entry-way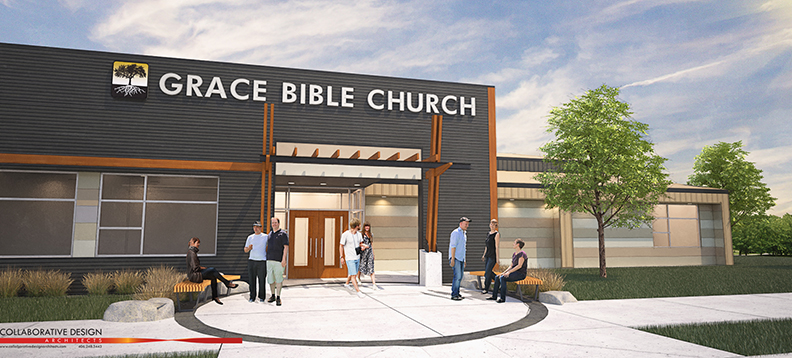 GBC Floor Plan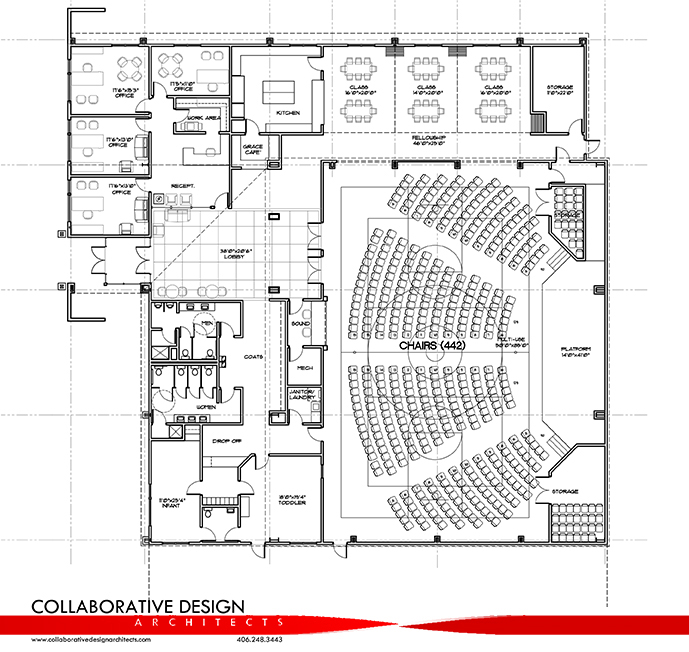 Multi-use Auditorium: This 50x85' multi-use room can seat 442 people for services and 304 around tables (see detail), all in view of the large platform. All chairs and tables can be put into the two large storage areas so that the room can be transformed for recreational use for youth group, basketball, volleyball and many other purposes. The sound both is enclosed and the platform will be curtained to protect equipment when the room is used for recreational purposes.
Fellowship/Meeting Room(s): The north end of the building features a large 46x25' fellowship room that will be perfectly suited for smaller gatherings, classes and dinners. The kitchen has a roll up service window into this room. The fellowship room will feature paneled collapsible, sound-proof walls that can be expanded to divide the space into three large 16x20 meeting rooms. Two large roll-down doors can be lifted on the south end of the fellowship room to open it up to the multi-use auditorium for large gatherings.
The Kitchen: The design for the new kitchen is very functional. Storage will not be an issue as the design includes a large fridge, freezer, pantry, island and cupboards. It will have a vented oven and cook top and a dishwasher. The kitchen does not border the auditorium (for sound control) but opens into the fellowship room and has an outside entrance for deliveries.

Other Great Features: The new building will feature a large open foyer with no stairs. The children's area has large infant and toddler rooms with a pick-up/drop-off counter for child safety. The staff area has four good sized offices and contains a separate reception and work area. The bathrooms are handicap accessible and each has a shower. The janitor room features a washer and dryer. The new building will be placed on the property in a way that gives us room to grow with two future expansions.